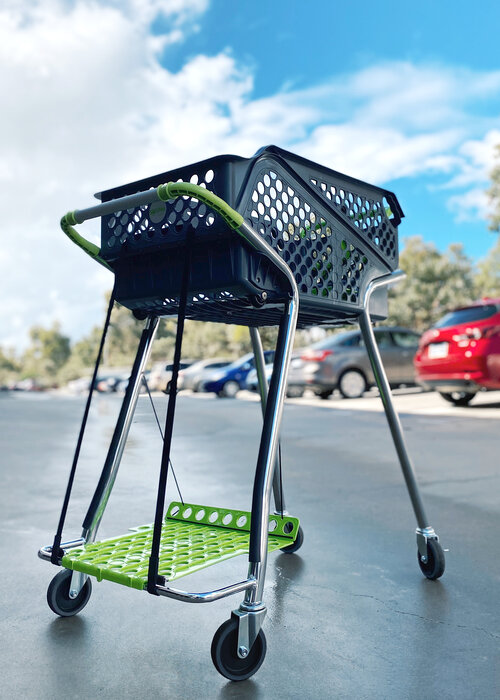 About Shoppacart
Shoppacart is a foldable personal shopping trolley that will change the way you shop.
Stylish, lightweight, and easy to navigate, it gives you convenient supermarket to pantry shopping without having to use reusable or plastic shopping bags.
Designed to be effortlessly loaded to and from your car, smart folding legs and clever elastic straps protect your vehicle and enable it to fit into all but the smallest boots.
Accessories including a bag hook, cup holder, bulky goods shelf and a smart phone holder will take your grocery shopping to a whole new level.
Sustainability 
Shoppacart gives you a seamless supermarket to pantry experience without the need for plastic shopping bags or even reusable shopping bags.
With most of the trolley made from recycled materials, biodegradable packaging and a predicted ten-year life span, Shoppa Cart ticks all the sustainability boxes.
Countries around the world are waging war on dumped shopping trolleys clogging waterways and creating ugly visual pollution, so Shoppacart also represents an exciting solution for the global retail industry.
Hygiene 
With the average shopping trolley carrying more bacteria than a toilet door, buying groceries has become riskier than ever in the face of COVID-19.
In fact, over 50 percent of shopping trolleys fail basic hygiene tests, and more than 20 percent of handles are covered with some form of bodily fluids – including saliva
COVID-19 means that more than ever it's vital that trolleys are free from bacteria and viruses and the easiest way to ensure this is to have your own personal shopping trolley.
Circular Economy
We pride ourselves in that we consciously designed a product that would offer our customers a circular economy opportunity; using recycled materials wherever possible and making the Shoppacart completely dissemble-able and repairable (all spare parts obtainable).
Above all we have designed a product that, with sensible handling, should last a lifetime.
In the spirit of the circular economy, Shoppacart will endeavour to provide spare parts and components at a reasonable and affordable price should they be required, for years to come. Shoppacart will also endeavour to design upgrades that integrate with your Shoppacart so that you are able to upgrade your Shoppacart as trends develop and change.